Meet the Students: Gloria Kurere, EASAP
Armed with a B.S from Cornell in Human Biology, Health and Society and a Global Health minor, Gloria Kurere has set her sights on a career in global health. Her journey from a village in the arid part of Kenya and back has taken her to Tanzania and Namibia for research, and to lunch in Ithaca, New York with the once and future President of Chile, Michelle Bachelet.
Gloria is persistent in her quest.
"The first time I applied to college all my schools either rejected or wait-listed me. I was devastated," recalls Gloria. "I wondered what was wrong with me and pondered why schools thought I was not good enough. On the other hand, most of my more traditional family members believed that witchcraft by jealous neighbors had caused my bad luck. Eventually I reapplied and got into Cornell which is one of the best gifts that life has handed me."
Although sad to leave Ithaca, Gloria is excited for the next phase: "My undergraduate career has been wonderful—apart from providing a world-class education, I'm grateful that it gave me a lot of exposure and allowed me to ask and be asked tough questions about life and my contribution to it.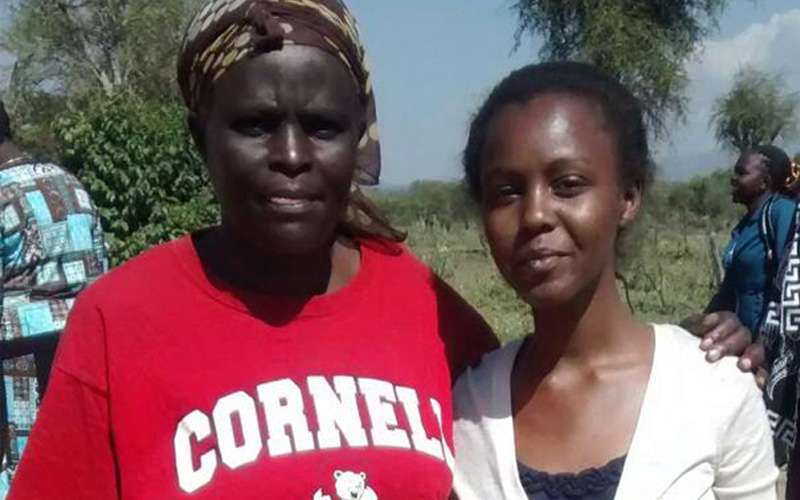 "I've become a more critical reflector and embraced active citizenship in all my communities. I have found a gap year opportunity in global health based in Kenya, doing breast cancer research on Gabon with a Cornell professor, and will be applying to Public Health masters programs in the fall."
At Cornell, Gloria was a teaching assistant in Global and Public Health, analyzed and recommended policy to improve cervical cancer screening rates, coordinated outreach programs for Partners in Health, and organized lunch-time practice for beginning Swahili speakers.
She interned in Africa, conducting research on topics as varied as Namibia's progress towards toward its Millennium Development Goals and the outbreak and control of Foot and Mouth Disease. In Tanzania she analyzed the widespread use of herbal medicine, co-directed community bank meetings and helped run a women's education and economic center.
In January, Gloria traveled to her grandmother's village to help the community prepare a grant proposal for a well. As for lunch with the Chilean president at Cornell, Gloria remembers, "I had just left my home in Mogotio and within a few weeks I was dining with a president. It took me several days to process, but from interacting with Bachelet I learned two valuable lessons: that the world was indeed my oyster and that women ruled the world!"
Gloria Kurere is a member of Kenya's Education and Social Empowerment Class of 2010. She is on the Advisory Board of the East African Scholars Fund which supports EaSEP.
---